jj_higgins.
link

>2

el

se:

w

here
[ME]dia_space.2006 (videolink)
installation with medical equipment, tools for improvement, live surveillance camera+video> 2006. WARPhaus gallery at the University of Florida
commodification of the object through the constructs of beauty
self-service security.2004
installation with surveillance camera, toy/objects, constructed security box, constructed security gate, monitors, sound.
AIRWAYS collective. 2004
WARPhaus gallery. University of Florida, Gainesville. 2005
SUPER:vision. The Rise of Surveillance Technology. Foster Gallery, University of Wisconsin-Eau Claire
Davis Gallery. Stephens College, Columbia MO 2007
re:_view. Gallery 115. University of Central Missouri. Warrensburg MO 2007
objects of consumer culture--the cabbage patch doll and her cigarettes--create a disturbing diversion for the audience, who are allowed feeding privileges while the camera collects information projected beyond the site.
deVending the Machine
organized an event where artists take over sandwich vending machine, replacing sandwiches with artworks that become objects on/for display in the machine. 37 artists participated in the project, that got the general student population's attention and in addition, they made purchases of the art compromised by the corporate machine--where the artist received no profit and paid for the right to display.
April 2005. University of Florida
for me, the lure of the synthetic world as depicted through tourism was too great. i took the opportunity to examine the social machine through a performative experiment in--what else?--a mediated social space. the idea of investigating subcultures and their organizational system through an interactive media experience included a tour of the Great Smoky Mountain National Park in a recreational vehicle and a tour of the park store where we met the most authentic characters.
collaboration: alison mcnulty and jeremy mickolajczak.
summer 2006. motorhome videoclip
souvenirs from the carnival. intervention/interactive space and the idea of familiarity and absurdity, play and memory, value and meaning through games and rules of institution and culture.
collaboration project in progress. jj_higgins. jeremy mikolajczak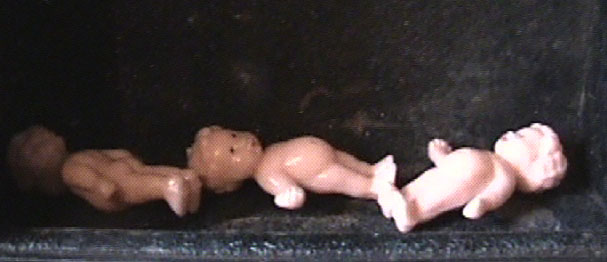 _____________________